ABOUT US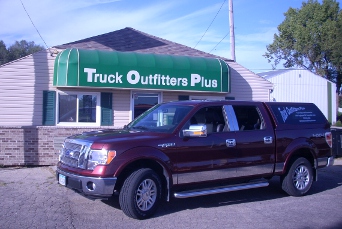 This is storefront at 3435 Lafayette Road, Evansdale, Iowa.
We moved to this location in October, 2000.
With this new location we have added a showroom, more room for installation and additional room for storing more inventory to serve our customers more efficiently. Our goal is to reduce the time that our customers have to wait for product by having more on hand. We try to keep the highest quality accessories in stock for the most popular trucks.
This is our showroom. We have a lot of goodies on hand to make your truck look great. We have working displays of the Access Cover, Fold A Cover, Truxedo, Undercover, Extang, Roll n Lock, and Pace Edwards Jack Rabbit tonneau covers in our showroom so you can see what makes these tonneaus so popular. We also have a great selection of mud flaps, floor mats, side window visors, and bugshields for you to choose from. We don't have everything in our modest showroom, but we try to cover all the bases. If you don't see something, we can probably order it and have it for you within a day or two.
Since there are so many different models of trucks and so many different colors, it is virtually impossible to keep every style, color, and model of topper and tonneau in stock. Plus, there are so many different options to choose from, like fold down front windows, carpeted headliners, roof racks, clothes hangers, and more, that ordering a cap will get you a cap built just the way you want it. Therefore in most cases they are special order, but with our new selection of truck caps in stock, we hope to have a cap to fit and match your truck on hand so you won't have to wait.

We are family owned and operated

We are a family owned and operated business. Liz Bumgardner (front), her husband Galen (right), their son Keith (middle), and his wife Chassidy (left). This picture was in the business section of the December 10, 2000 Waterloo Courier, shortly after we moved to our new location.

We were formerly Wallace Auto Mart and Toppers.

This is where it all started. Our original location on Howard Avenue in Waterloo, Iowa.