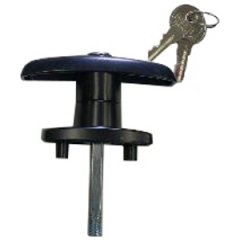 Topper - Handles / Locks
Browse our selection of T Handles and Locks for truck toppers and camper shells. We carry brake lights for Leer, Century, Raider, A.R.E., and more.
Sort by:
Price Low - High
You are on page 3, click to load from start
Item ID: 4363

Black Finish
Steel Construction
1-5/8" Shank - with full thread
Screw Mount from the inside of the topper door
Includes both Driver and Passenger side (keyed alike)
Not sold individually

Item ID: 4359

CURRENTLY OUT OF STOCK. NO KNOWN ETA

Sold Individually
If purchasing more than 1, we will make sure they are keyed alike
Stainless Steel
Includes: 1 handle, 2 keys, and 1 gasket
No other hardware included
Works with most DCC commercial truck caps
Outside dimensions: 5 5/8" W x 4 3/8" H
Inside dimensions: 4 3/8" W x 3" H

Item ID: 4356

Black Finish
Includes: 2 handles, 2 keys (keyed alike), 2 nuts, and 1 right hand mount self stick washer

*

2 Inch Threaded Shank
Works with some toppers with All Glass Rear Doors with Double T Handles (Century, Jason and Unicover)
Rubber Grommet available / sold separately
Metal Cap/Spacer available / sold separately

FOOT NOTE: * The right hand mount self stick washer, when applied with the included adhesive tape to the inside of the glass, prevents the handle from freely spinning. When mounted with the flat edges of the center hole vertical, the handle will turn CW, or mounting horizontally will magically create a CCW turning handle.